ULTRA-LOW PRICING:
HP Designjet T730 36" Printer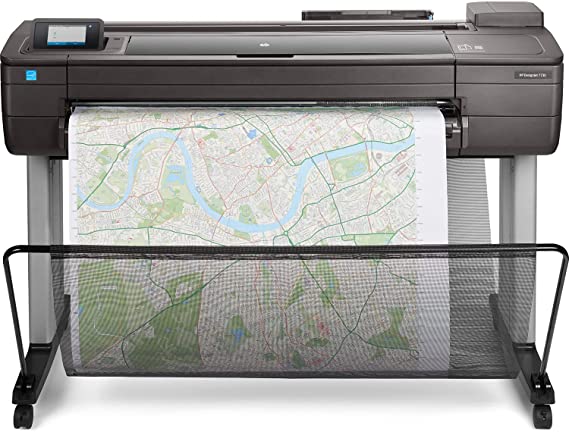 HP Designjet T730:
36-inch, robust and compact Wi-Fi printer for CAD and general-purpose applications.
Produce prints 3 times faster than previous HP models, using the HP DesignJet T730 Printer, which delivers D/A1-size prints in 25 seconds. The automatic sheet feeder/tray can also help you cut waste by 50% by printing at half scale.
Print Speed: Line Drawings: 25 sec/page on A1/D, 82 A1/D prints per hour
Media: 1 Roll Roll Width: 11 to 36 inch Scanner:
No scanner
HP Designjet T730 36 inch Printer FEATURES
SMART: Invest in a robust printer
Robust, compact, and professional, this printer fits your business and gives you space to work. Produces prints 3 times faster than previous HP models, see A1/D-size prints delivered in 25 seconds. Choose from 40- to 300-ml HP ink cartridges to fit your print volume, large supplies can reduce interventions.
EASY: Convenient printing helps reduce time, waste
Cut waste by 50%, print at half scale with automatic sheet feeder/tray; cut extra work, waste of wide rolls. The front panel works like a smartphone, easily swipe through the intuitive user interface on the touchscreen. No LAN needed, move this printer any time, any place your Wi-Fi signal can reach with wireless connectivity.
MOBILE: Easily print from smartphone or tablet
Print from mobile devices in a few simple clicks with HP Mobile Printing1, quickly work through revisions. If you're on-the-go, attach your document to an email and send it directly to your printer via ePrint. Use the HP AiO Printer Remote app3 to access additional print features when printing from a mobile device.

Topaz Engineering Supply, Inc.
35 Pond Park Road, Hingham, MA.
800-255-8012
|
sales@topazeng.com

Partner First Platinum Imaging Printing Partner
Specializations
Partner First DesignJet Specialist
Partner First Technical Production Specialist
Partner First Services Specialist Sales