ULTRA-LOW PRICING:
HP DesignJet Z9+dr PS - 44" Printer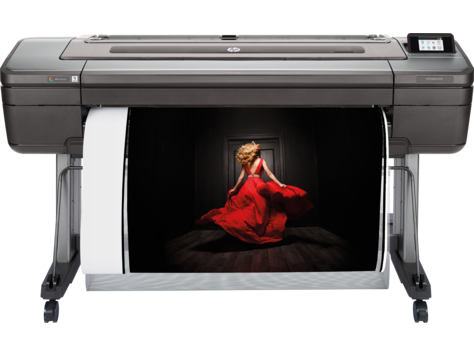 Designed for professional photographers, graphic artists, and print artists, the DesignJet Z9+ Dual Roll 44" PostScript Printer with Vertical Trimmer from HP quickly delivers large-format, photo-quality prints.
Utilizing high-definition printheads with 2400 nozzles-per-inch, the DesignJet Z9+ has a maximum resolution of 2400 x 1200 dpi and can make prints up to make prints up to 44" wide. The unit features HP Pixel Control, an imaging pipeline that controls output pixel-by-pixel, resulting in quality prints with smooth transitions and sharp detail.
Max Resolution: 2400 x 1200 dpi
Max Printable Width: 44"
High-Definition Printheads
HP Pixel Control
Embedded Spectrophotometer
HP Professional Pantone Emulation
Automatic Dual Roll Feed
Horizontal & Vertical Trimmer
500GB Self-Encrypted Hard Drive
Why buy or lease from Topaz?
We are a Top U.S. Designjet Reseller.
We buy a huge number of HP Designjet Z9+dr PS - 44" Printer. As a top national HP Designjet reseller our volume discounts allows us to sell HP Technical Designjet printers for less. How much can you save when buying from Topaz? We are prohibited from advertising OUR ULTRA-LOW PRICING. The only way we can quote pricing is if requested.
Take a minute to request a Quick Quote.

OUR PRICES ARE TOO LOW TO ADVERTISE,
but we can email our lowest price to you withen 24 hours if you request it.
OVER THE LAST 40 YEARS
we have taken great pride in our reputation for offering outstanding service and deep discounted equipment and supply pricing.
We are proud of our loyal base of regular customers -
many have relied on Topaz for equipment, service and supplies for over five years.
Ultra-low prices, exceptional service
- your absolute best value in Wide Format equipment and supplies.

HP DesignJet Z9+dr PS - 44" Printer FEATURES
Smooth transitions and sharp details thanks to HP Pixel Control.
No need for light inks using new high definition HP printheads with dual drop technology.
Achieve expanded gamut with RGB HP Vivid Photo Inks and the embedded spectrophotometer.
Work without delays. Cut post-processing labor time up to 20% with the first printer to include an integrated vertical trimmer.
Print up to 2.5 times faster without losing quality, with 2400 nozzle-per-inch high-definition printheads.
Spend less time on media changes and adjustments with dual roll support and automatic roll switching.
Easily design applications from posters to banners and canvas with the HP Applications Center.

Topaz Engineering Supply, Inc.
35 Pond Park Road, Hingham, MA.
800-255-8012
|
sales@topazeng.com

Partner First Platinum Imaging Printing Partner
Specializations
Partner First DesignJet Specialist
Partner First Technical Production Specialist
Partner First Services Specialist Sales